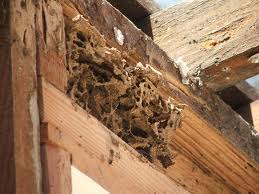 There are more than 2,500 types of termites. However, there's no reason for you to learn all the different types. That's what we're here for. Although some think that termites are just pests, termites actually have a beneficial impact in the wild. Termites are the recyclers of wood and plan material. However, termites aren't wanted when they're feeding on structural wood. Each year thousands of residences need treatment for termites.
Schedule your Columbus Termite Inspection today
One of many ways people often find out they have termites by discovering impaired wood that contains mud tubes. People also sometimes notice mud tunnels extending from the ground to woodwork. If you suspect you have termites, you should schedule a termite inspection. Our termite inspection is performed by visually inspecting the accessible areas of a home for signs of termites and other wood-destroying organisms.
If you think you have termites give our Columbus termite control experts a call at (614) 289-6035 to schedule your appointment or ask any questions you might have. The longer you wait to treat a termite problem the greater the damage may be when you discover them.